Topic: Magna XG SF 3600 gen vs. 15K BTU A/C and Microwave UPDATE
---
Posted By: ib516 on 04/17/10 08:21pm


Well, as promised, I tested my new Magna XG SF 3600 Inverter generator today. I used my new 2010 Cougar 322 QBS 5er. It has a 15K BTU A/C. The generator was hooked up using the 50A shore power cord, adapted down to a 30A RV adapter, which was also "adapted" to mate up with the generator's female 30A twistlock connector (a lot I know).

Here is the generator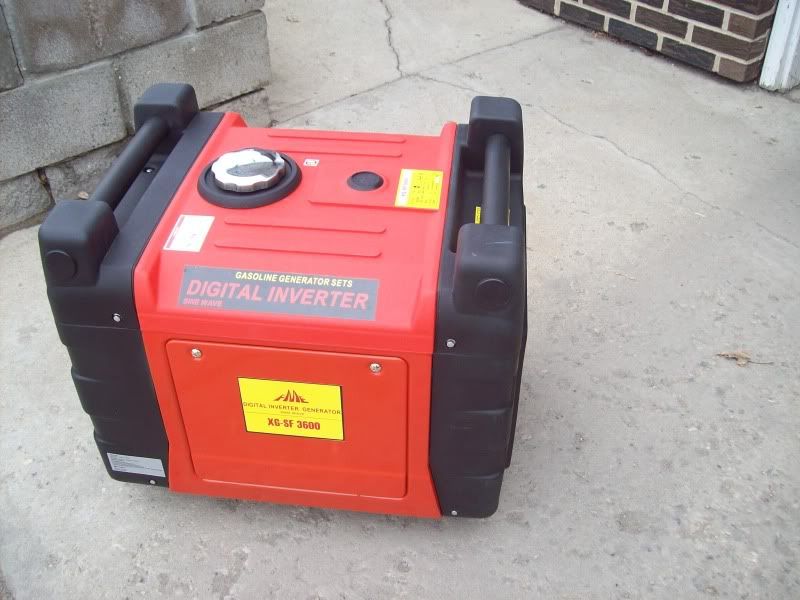 Here is the RV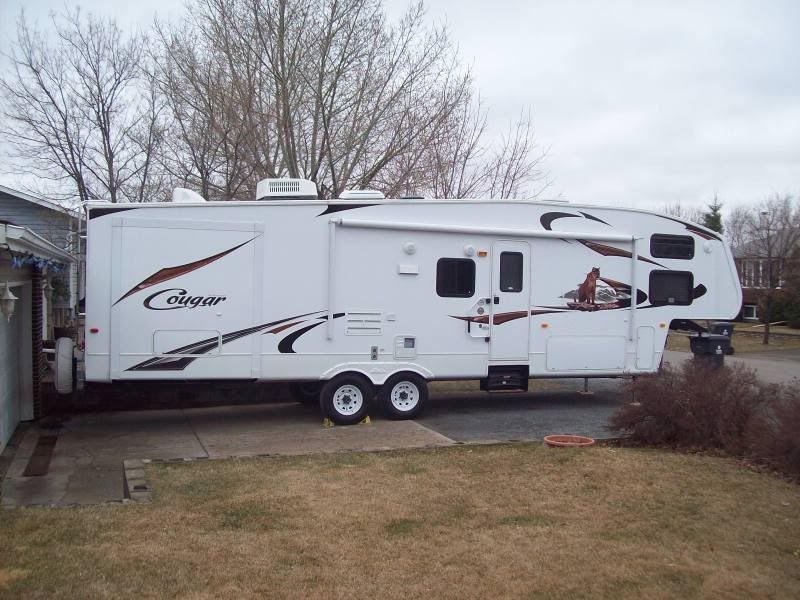 I started with the generator in the "eco" or "smart throttle" mode. It was just idling with basically no load. I fired up the A/C direct to cool (didn't turn on the fan first) and dropped the wall thermostat to the coldest setting. The generator engine speed immediately increased to about 65% or so (didn't bog), and the A/C blew nice and cool. Let it run that way while I went in the house and grabbed a glass of water to stick in the microwave. While the A/C was running, I put the fan speed on the thermostat to high, and put one minute on the microwave with the glass of water in it. Microwave ran on high for 1 minute, generator was at about max RPM until the microwave was done it's one minute. Glass of water came out nice and hot. I tested the temp of the water because my BIL had a small coleman generator (1850w campmate) that would "run" his RV microwave, but nothing would actually heat up.

As soon as the microwave was done, the generator idled back down to about the 60-65% speed. The A/C compressor was running the whole time (not just the fan) as I had the thermostat set at about 10*C (40ish*F?).

I'm very happy with how it performed.


Quality or longevity of this generator is yet to be determined, but initial performance is just what I had hoped for. I paid $599 for the generator on line.

* This post was edited 07/07/10 09:30pm by ib516 *


---
Had a 2010 Cougar 322QBS 5er, it was junk
01 Dodge 2500 4x4 360 Gas 4.10 Auto
02 Dodge 2500 4x4 5.9L CTD 3.55 Auto
07 Dodge 3500 4x4 SRW Mega 5.9L CTD 3.73 Auto
14 Ram 2500 4x4 Crew 6.4L Hemi 4.10 Auto


All above are sold




Tenting it and shopping for a Tacoma TRD



---
Posted By: pianotuna on 04/17/10 08:43pm


Hi,

Thanks for the report on the Magna. Do they make a smaller electric start version?


---
Regards, Don
Full Time in a Kustom Koach Class C 28'5", 256 watts Unisolar, 556 amp hours in two battery banks telecom AGM 12 volt batteries, Magnum 3000 watt hybrid PSW inverter.


---
Posted By: ib516 on 04/18/10 12:33pm


Yes, they make several, with a bunch of different brand names and colors. Village RV has a clone of the one I have in right now in their showroom that is black. They want $1550 for it.


Notice mine doesn't have the "MAGNA" sticker on it, but that is the most popular brand they apply to this particular genset. They are sold on ebay by another brand (RONSIN??) and model number, but the guts appear to be the same.

LINK for the rest of the Magna gens


---
Posted By: ib516 on 04/18/10 12:38pm


Found ones on ebay...they are called RAMSOND. Same as my Magna.

RAMSOND Website

* This post was edited 04/18/10 12:45pm by ib516 *


---
Posted By: ib516 on 04/19/10 05:19pm


RAMSOND claim to be the original and warn about copies (especially on ebay), but I have looked at their website, and they look like the same product to me. I'm sure they are built on the same assembly line.


---
Posted By: bmcgowan on 05/17/10 01:50pm


Thanks for the great review. May I ask where you got the 3600 for $599. I am seeing them more around $899.


---
Posted By: Wrace on 07/08/10 02:47pm


bikendan wrote:
check out the new Lifan gennies at HD:

Lifan generators at Home Depot

they look to be made similar to the Ramsond.


Excellent. The more competition the better for the consumer.

I like that Lifan has mimicked the suitcase style ergonomics of the Honda. Might not be a big deal to most people but I found that lifting with bending the knees and using one arm, and then carrying the gen with one arm as opposed to two hands/arms in front of the body is much easier on my back. Little things like can I actually lift and carry the gen without further damage to my back are important items on my list.


---
Posted By: pianotuna on 07/08/10 07:24am


Hi shaferz,

Yes, but it is "out of stock".


---
Posted By: bikendan on 07/08/10 02:00pm


check out the new Lifan gennies at HD:

Lifan generators at Home Depot

they look to be made similar to the Ramsond.


---
Dan- Firefighter">, Shawn- Musician/Entrepreneur">, Zoe- Faithful Golden Retriever(RIP">), 2007 Chevrolet Avalanche LS, 2007 Rockwood Roo 23SS w/Equalizer and Prodigy, and 5 Mtn. bikes and 2 Road bikes

---
Posted By: Wrace on 05/25/10 09:25am


bmcgowan wrote:
Thanks for the great review. May I ask where you got the 3600 for $599. I am seeing them more around $899.


Yes, an update would be great if possible. I'd also like to know if you have had a chance to use it much more and in particular if the remote electric start looks to be robust enough for regular use? (I'm considering the magna 2700i)


---
Posted By: ib516 on 07/07/10 09:41pm


The Magna is still running great, stickers are starting to peel up on all edges (the ones that say INVERTER GENERATOR on each side). It doesn't use any oil so far. I did have one time where it failed to start and run my A/C, but I'm not sure if it was a plug issue, and A/C issue, or what.

The RV was sitting in an open space (no shade) and it was quite hot and humid that day (about 85 to 90*F). The A/C would kick on, and the generator would stall (engine would quit) immediately when in ECO mode. RV house batteries (two group 24s) were not fully charged at the time, but were probably 80% or so. The sun was beating down on the RV and the A/C unit on the roof. It would start and run the A/C if I turned the ECO mode off. Hadn't had this issue before.

Since my generator has the 30A twistlock, I'm wondering if the plug was inserted, but not twisted all the way so all 4 contacts were engaged (thought about that after). I tried it again at home, and it started it fine in ECO mode, and with ECO mode off.

My theory is that the A/C unit itself was hot (sitting in the sun) as was the RV interior, and that may have made the A/C harder to start, and the gen may have been putting a lot of juice into charging the batteries, and /or the plug may or may not have been inserted properly causing it not to have full contact.

I haven't been able to replicate the problem.

To the person who asked where I got it for $599, it was on ebay. The seller only had 6 of them, and seems to sell mostly Chinese made hand and power tools. Seemed to me he may have got a sea can that had a few in it by accident, I don't know. His ad/auction picture actually showed the unit to have the 30A RV plug, so we had a little chatr over email when the unit arrived, and I ended up getting a refund of $60 to go buy an adapter to make it work, and a new battery as the one that was shipped with it was no good.

Note my unit is electric start (which works great BTW) but it does not have the remote, so I can't comment on that. Mine uses a key you twist just like a car.
Still a happy customer.


---
Posted By: ib516 on 07/07/10 09:49pm


I did some checking on ebay. Best deal on these right now is $899 USD with free shipping to lower 48 States. Shipping is $199 USD to Canada.


---
Posted By: shaferz on 07/08/10 12:26am


Anybody see this one... ?


Ramsond 3500


2900 rated, 3100 peak. Quite DB rating, sold for $739 INCLUDING shipping AND electric start!!!!!


---
First TV and my daily driver: 2003 Ford Excursion Limited. V10 4X4
Second TV and wifes daily driver: 2006 Trailblazer SS AWD - superior blue
TT: 2010 Coachman Catalina 27BHS
My toy: 1999 Grand Prix GXP. best time = 12.07 @ 116.58


---
Posted By: Old & Slow on 07/08/10 05:50am


Magna may come out on top of all the Chinese brands. ES/RC, 5 star ratings from owners and EPA cert. Low noise. And at the present price, delivered ,wow.


---
Posted By: E&J push'n wind on 11/30/10 11:51am


Revisiting this discussion,

I've looked for the 3600w version of the Magna inverter online and as of yet haven't been able to find one. The 3300w version is available for $899.00 before shipping on Amazon. Is it the same unit re-titled/named. What is the peak of the 3600? Is it 3300 and that is why it is now perhaps call a 3300w? IDK, and was wondering why it is no longer listed anywhere?


---
Wisdom is the right use of knowledge. To know is not to be wise. Many men know much, and are all the greater fools for it. There is no fool so great a fool as a knowing fool. But to know how to use knowledge is to have wisdom.

Charles Haddon Spurgeon
---
Posted By: elnonio on 09/10/11 06:01pm


How well is the Magna doing? Holding up to regular use? Found one for $950 delivered, but I'm a little wary of committing!

Thanks!

AC


---
Posted By: elnonio on 09/28/11 08:54pm


Well got the same Magna delivered today. Filled up on oil, and added a drop (litterally, turns out my wife had just used the mower) of gas. Still started right up!

More to follow to complement the OP's test.


---
Posted By: whjco on 10/02/11 09:23pm


We've had our Magna for 2 1/2 years. It's a good little generator and we're real happy with ours.


---
Bill J., Lexington, KY
2006 Starcraft 2500RKS 25' Travel Trailer
2015 Ram 2500 Big Horn 6.7 Cummins.


---
Posted By: tvenetis on 10/10/11 08:08pm


I have one on e ebay now like new here is the link
http://cgi.ebay.com/ws/eBayISAPI.dll?ViewItem&item=160662626005


---
Posted By: pianotuna on 10/10/11 08:52pm


Hi tvenetis,

Why are you selling it?


---
Posted By: tvenetis on 10/10/11 09:17pm


I bought a few of them from a dealer and this one is the last one I have for sale.


---
Posted By: ib516 on 10/13/11 09:20am


TWO YEAR UPDATE

Mine is still running fine. No starting issues, no running issues. Nothing but solid performance so far.

* This post was edited 07/01/12 03:17pm by ib516 *


---
Posted By: ib516 on 06/05/12 11:09am


THREE YEAR UPDATE

Initial purchase in 2010. Used for 2010 and 2011 season, and a bit this spring.

I have changed the oil a few times (takes one quart (1L) exactly), I have 20w50 in it now as I am planning on using it in hot weather to run my A/C. I have also cleaned the air filter.

2 years and no issues with running the generator. Starts easily, runs smooth. I find the starting battery does go dead if left unused for more than about 2 months - it might need replacing soon. Once charged, it seems to hold a charge ok for now. I guess I should disconnect it when the generator is stored.




* This post was edited 07/01/12 03:17pm by ib516 *


---